Terms of Service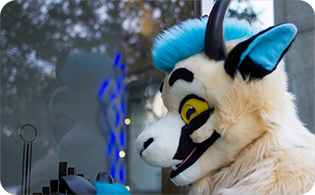 By accessing and using this website , you accept and agree to be bound by the terms and provision of this agreement. In addition, when using this websites particular services, you shall be subject to any posted guidelines or rules applicable to such services, which may be posted and modified from time to time. All such guidelines or rules are hereby incorporated by reference into the TOS.

ANY PARTICIPATION IN THIS SITE WILL CONSTITUTE ACCEPTANCE OF THIS AGREEMENT. IF YOU DO NOT AGREE TO ABIDE BY THE ABOVE, PLEASE DO NOT USE THIS SITE OR SERVICES.

This site and its components are offered for informational purposes only; this site shall not be responsible or liable for the accuracy, usefulness or availability of any information transmitted or made available via the site, and shall not be responsible or liable for any error or omissions in that information. We work hard to ensure each of our products are as safe as possible with utmost quality and the art of performance at heart. Fursuiting, costuming, and general performance involving our products have inherent risks that we can not be held responsible for. Tokai Suiting and its subsidiaries are not responsible for injury nor death due to use of our product or website. All rights to intellectual property are held by Tokai Suiting. This includes present and future photographs, graphics, inventions, improvements, trade marks (registered and common law trademarks), patents, designs, copyright, and any corresponding property rights under the laws of any jurisdictions. It is the responsibility of the commissioner (you) to assure us that your submitted designs do not infringe on any intellectual property rights. Information collected is used only internally for communication, evaluating pricing and payment options. We do not sell any of your personal information.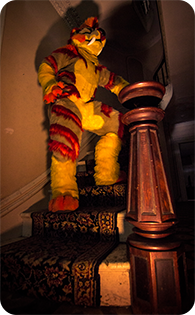 Pet Allergy Notice
Dogs are present around the workplace but are not in direct contact with any materials or finished products.
Quotes
Quotes are not locked in until a deposit invoice is sent and payment on the deposit is made.
Ordering
Measurements
A Duct Tape Dummy or DTD is required for all fursuit commission as it provides an accurate real life form of your body without requiring you to be present in the construction process.

DTD's must be made in accordance to the Tokai Suiting commission guide. We reserve the right to request another dummy be made. Sent along with the DTD, we require two head measurements to ensure proper fit. Please take all head measurements in accordance to our commission guide.
A hand tracing and shoes that can act as slip ons (either laces tied where the shoes can be slipped on and off with ease but are tight enough they don't slip off, or slip ons themselves) must be sent with the duct tape dummy.
One of the most important aspects of the process is your reference art. A verbal discription of your character only goes so far. Please make sure your reference material is clear and concise with no contradictions. Pay close attention to contradictions of color and pattern.
For more details please watch our commission guide.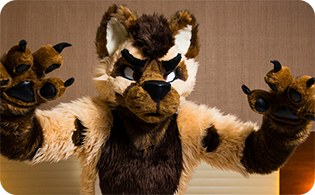 Payments
A non-refundable deposit equaling 30% of the quoted amount is required before a spot can be confirmed and before work can begin. This deposit goes towards materials and other expenses accrued before physical work on the agreed upon project. This deposit is not to be made until your spot in the queue has been confirmed, after an invoice is sent and you have accepted the quoted amount. Since this deposit is used to purchase supplies and materials for your commission it is non-refundable. The remainder of the quoted amount must be paid on completion of the project. Delivery of a completed custom project will not be made until full payment of the full quoted amount and shipping plus handling is received and confirmed. In the event that a commissioned project is completed and final payment can not be made within 90 days from the moment the project is ready to ship and the final invoice is sent or other prearranged and agreed upon time frame, Tokai Suiting reserves the right to sell the completed project to any party and in any manner in order to make up for losses. This includes any part or piece of a project that has been arranged to be finished and shipped seperatly from the overall project.
We honor a 90 day warranty of craftsmanship. Our warranty of craftsmanship can be defined as a coverage and assurance against errors made during manufacture. Damage due to or caused by negligence and mistreatment can not be honored by our warranty of craftsmanship.
Frequently Asked Questions
| | |
| --- | --- |
| "What email will I see correspondence from?" | tokaisuiting (at) gmail (dot) com |
| "When will you open for quotes?" | We try to open for quotes every quarter to every other quarter. |
| "Why do you require a deposit?" | We require a deposit to reserve a spot in the queue and be able to prep for your commission. This includes researching and purchasing materials, and our time in preparing to embark on your project. |
| "When is the final payment due." | Final payment on commissioned work is due before delivery can be made. Please see our TOS for more information. |
| "Do you use real fur in your projects?" | No. The fur we use is all a synthetic faux fur blend. |
| "Will you make me 'x' species?" | We take on all kinds of animals in a plethora of patterns and colors. Just submit a quote request when we are open and we will gladly look into your design. |
| "Can I change my reference after making a deposit?" | Generally no, but send us an email and if we havn't gotten to the detail of your project in question we will see what we can do. Keep in mind that certain changes may change your original quote. |
| "Do you do international projects?" | Yes, but keep in mind that shipping costs will likely be a non-trivial expense, and often changes before the project is complete and ready to ship. |
| "What country are you based in?" | The United States |