Options & Features
Finished Bodysuit Seams

Fully Lined Head and Paws

Including custom name labels on all parts.

Body Type

The two body types we offer are namely digitigrade and plantigrade. Plantigrade is a straight legged form. A digitigrade body has padding to give the illusion of more animalistic joint positions, but in a upright form.

Footpaw Styles

Footpaw Sandals

Handpaw Styles

Whiskers

Travel Head Zipper Bag

Head Fan
Pricing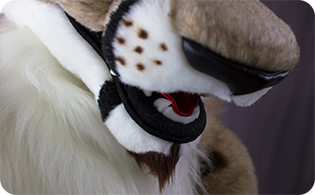 Commissions are taken on a hybrid of first come first serve and first pick basis. If you are not picked for the current batch of suits don't fret! We will open again once our queue is fulfilled.

We try to open for commissions on a biannual basis.
BELOW ARE STARTING PRICES ONLY.
Depending on complexity, quotes are likely to be higher.
These numbers are furnished to give you ballpark estimates.
FULL FURSUIT (PLANTIGRADE) | Starting at $7,150
Head, Body, Handpaws, Footpaws, and Tail
FULL FURSUIT (DIGITIGRADE) | Starting at $7,580
Head, Body (with padding to create the illusion of digitigrade legs), Handpaws, Footpaws, and Tail